Designated Person Ashore Course - Nautical Institute approved - Online or Class Room Based.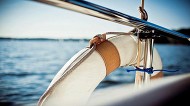 Glasgow Maritime Academy is the first training provider in the UK to be recognised by Nautical Institute for delivering Designated Person Ashore Course.

Glasgow Martime Academy delivers Designated Person Ashore Course every month as class room based or anytime access if the candidate requires online course.
Course Duration: 2 days
Course dates: Every Month. Can be started any date online. For classroom course please email or phone us on 01415542248
Venue: Glasgow, Online or in your office worldwide.
Availibility: YES. If you need any last minute slots please contact us on our phone number
Course Eligibility:
There is no minimum requirement to attend the course but candidates who would want to work as as DPA eventually should meet criteia as below:
1. A qualification from a tertiary institution within a relevant field of management, engineering or physical science or
2. An STCW management level qualification and seagoing experience as a ship's officer or
3. Other formal education combined with not less than three years' practical senior level experience in ship management operation.
Course Fee:
Classroom Based £ 920/-
Online – £920/-
Course Description
This course fulfils the IMO MSC-MEPC.7/Circ.6 "Guideline on the qualification, training and experience necessary for undertaking the role of the Designated Person under the provisions of the ISM Code".
According to the ISM Code the Designated Person Ashore (DPA) plays a key role in the effective implementation of a Safety Management System and takes responsibility for verification and monitoring of all safety and pollution prevention activities. To comply with the ISM Code a shipping company should be able to provide documentary evidence that the DPA has received sufficient training to undertake the necessary duties.
In this course the participants will be fully prepared to assume the role of DPA. This means providing them with the knowledge, understanding and skills necessary to implement and maintain the company's SMS as required by the ISM Code.
Course Contents
1 – Introduction / Objectives
2 – Management systems in Shipping and Requirements for Companies
3 – Implementation and Maintenance of the SMS.
4 – The Role of the Designated Person.
5 – Background, Purpose & 2015 amendments to I S M code.
6 – Mandatory Regulations, Codes, Guidelines, Standards.
7 – Risk Assessment.
8 – Accident Investigation.
9 – Stakeholders in Shipboard Operations and Marine Insurance.
10 – Technical and Operational Aspects of Safety Management
11 – Management System Audits and Certification under ISM.
12 – Effective Communication.
Who Should Attend
Shipping Companies
Superintendents
Quality managers
Designated persons
Nautical officers
Engineer
All those wishing to act the Role of DPA along with all office Personnel involved in ISM implementation
Practicing cargo agents
Freight forwarders
Cargo Claim officers
Shipping officers
Shipping Industry starters
Cargo consolidators.
If you need any support with this contact Kyra on
Designated person ashore course online, Reg4ships Designated person ashore course, DNV Designated person ashore course, Llyods Designated person ashore course online, Warsash designated person ashore course, designated person ashore course online, dpa training, dpa course onine